Curriculum and Instruction, MEd Concentration in ASTL: Advanced International Baccalaureate Research
With IB certification, you gain a rich learning experience, ongoing professional development and the ability to develop an expanded research capacity.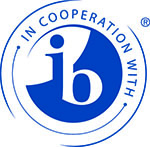 The Advanced International Baccalaureate Research (AIB) concentration provides advanced professional development for teachers on the philosophy, elements, and assessments of the Primary Years Programme (PYP), Middle Years Programme (MYP), and Diploma Programme (DP). The coursework focuses on the theory, pedagogy, and research supporting the International Baccalaureate programs.
The ASTL concentrations are for teachers and other educators with one or more years of teaching or education-related experience who want to continue to grow professionally. The program offers advanced study in a specific concentration area, including Virginia's Standards of Learning content areas, cohort classes, an innovative schedule, and the use of technology. The courses, aligned with the National Board for Professional Teaching Standards, help teachers think and practice as board-certified teachers. The program develops teacher-leaders who practice reflection through action-research, problem-based learning, and self-inquiry, and teacher expertise in a concentration that will identify the teacher as a potential leader in that area. Experienced teachers and other educators with or without a master's degree may apply for the full master's degree program, which includes 12 credits of core courses.
Core Courses (12 credits)
Concentration Courses (18 credits)
Total: 30 credits
ASTL Advanced International Baccalaureate Research Concentration Course Sheet
Licensure Disclosure
This program has been identified by George Mason University as one that may lead to a career requiring professional licensure/certification. Federal regulations require Mason to disclose information as to whether this program meets/does not meet the educational requirements for licensure/certification in your state, or whether such a determination has not been made. Please consult our Licensure Disclosure Tool for the disclosure statement specific to your desired state/program combination.
George Mason University will verify completion of the requirements of a Virginia Department of Education (VDOE) state-approved preparation program at the graduate or undergraduate level. Such verification does not guarantee the issuance of a Virginia Collegiate Professional, Postgraduate Professional, or Pupil Personnel license from the Commonwealth of Virginia. It is solely the student's responsibility to comply with all requirements for licensure by the Commonwealth. Under Virginia law, a social security number is required for licensure.