After years of hard work, commitment, and sacrifice, it is finally time to celebrate earning your degrees and certificates from Mason!
There are multiple opportunities to participate in graduation celebrations. In the fall, graduates are invited to participate in the Winter Graduation, and in the spring, graduates can join their peers across campus at the University-wide Commencement ceremony as well as attend one of the degree celebrations hosted by the College of Education and Human Development. The faculty and staff, in conjunction with your family and peers, look forward to saluting the culmination of your academic and professional achievements at Mason. This website features important information regarding applying for graduation and participating in the various ceremonies. Please check back often as additional ceremony details become available.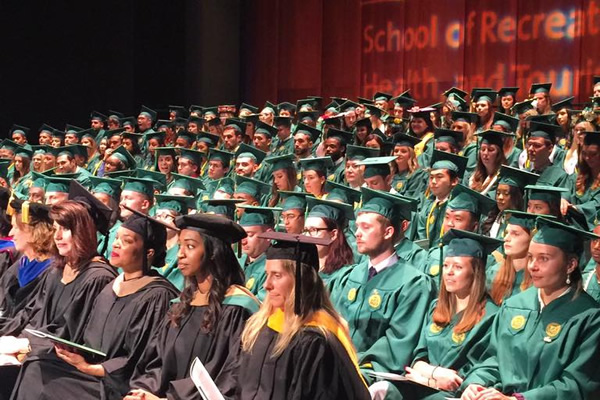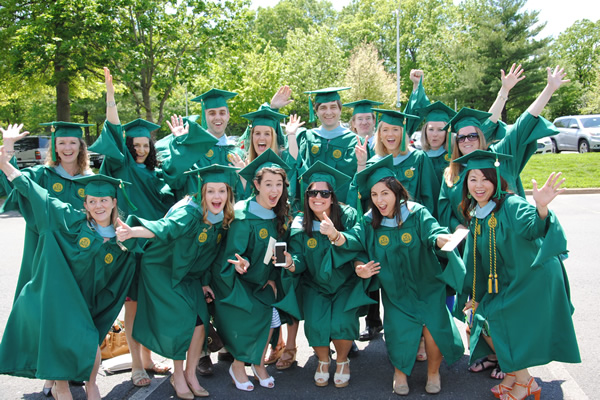 Graduation Application Deadlines and Degree Conferral Dates
Event
Fall 2019

Graduation Application is available on Patriot Web.
Click here for instructions on how to apply for graduation.

IMPORTANT:

You must apply to graduate by the deadline on Patriot Web in order to have your name appear in the graduation programs and to receive your diploma.
Certificates students graduating from both a Masters and a Certificate OR just a Certificate need to apply to graduate through Patriot Web for their Certificate.
Master's and Bachelor's students who graduate in Fall 2019 should plan to participate in the 2019 Winter Graduation and are also encouraged to attend their Spring 2020 degree celebration. Apply to graduate for Fall 2019 through Patriot Web by September 29 to ensure your name will appear in the Winter Graduation program and the appropriate Spring Degree Celebration program.

July 1, 2019
Graduation Application will be inactivated on Patriot Web.
Sep 29, 2019
Late Graduation Application is required if above deadline is missed.
Sep 30, 2019 -
Feb 1, 2019
Thesis and Dissertation Submission Deadline
Dec 6, 2019

Degree Conferral
The Office of the University Registrar Graduation Section will begin to award degrees after this date.

IMPORTANT:

Degrees will not be officially awarded prior to this date.
A 6-Week "Grace Period" is given to students to resolve certain issues delaying degree conferral, such as incomplete grades, outstanding study elsewhere transcripts, or need for substitutions and waiver forms.

Dec 21, 2019

End of the 6-week grace period

All incomplete coursework, even if not being applied to the degree, must be resolved and grades posted.

NOTE: All courses, projects, theses, dissertations, comps, credit-by-exam and scholarly papers must be completed by their deadline prior to the conferral date.

Feb 1, 2020
Approximate mailing date of diplomas
Early February
Caps and Gowns
Commencement and Degree Celebrations at Mason are ceremonies where graduates and faculty wear caps and gowns. Doctoral and Master's candidates must also wear a hood. Please state your field of study when purchasing your hood because different colors denote different fields of study (for example, education majors receive a light blue hood). Students and faculty should order regalia through the University Bookstore at (703) 993-2666.
University Honors and Honor Cords
Undergraduate students who qualify to graduate with University Honors will be sent an e-mail from the Office of the University Registrar informing them of their eligibility to purchase honor cords. Notification is sent approximately ten days prior to Commencement. University Honors and Cords are coordinated through the Registrar's office. Visit the Registrar's website for more information.
Guest Parking
Fairfax Campus - All parking lots on campus are available for guest parking. Handicapped and special-assistance parking is available in Lot A adjacent to the EagleBank Arena, South Entrance.
Graduation Photos
Professional photos will be taken as you are recognized on stage. Make sure to look for all the great photos captured from the graduation ceremonies at https://www.gradimages.com/.
Diploma Information
*Students will receive an email when their diploma has been mailed. Diplomas are mailed to students approximately 6-8 weeks after each conferral date.
Diploma Name
Your diploma name MUST reflect your name of record during the last term of attendance at George Mason. To change your name of record, including adding a middle name or a suffix, you must provide legal documentation in the form of a birth certificate, passport, marriage certificate, or a court document. Please go to the Change of Name page for more information. Accent marks may be requested using the Diploma Accent Mark Request form.
Diploma Address
You must verify that your diploma address is correct. Please go to the Update Diploma Mailing Address page for detailed instructions and contact Graduation Services at graduate@gmu.edu with any questions about the delivery of your diploma. If you have moved and your diploma has already been ordered, please set up a forwarding address with the post office.