Counseling Program Student, Jamar Burrell, recognized as WGMU Announcer of the Year!
Please join us in congratulating Counseling Program student Jamar Burrell. He has been recognized as the WGMU Announcer of the Year by the George Mason Department of Communication in the Annual Student Media Radio Awards. The Announcer of the Year is a student who has produced high quality content in the WGMU Johnson Center studios. Content can include podcasts, live shows, and other media broadcasted to the various media platforms at Mason. Jamar created a radio show entitled #TalkAboutitTuesdays where he blends popular music with mental health messages, tips, and resources for all students in the Mason Nation. View the award ceremony that features Jamar.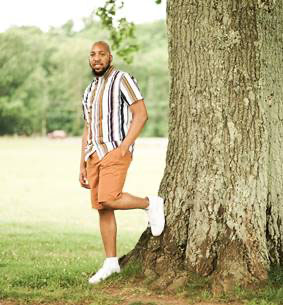 Jamar Burrell
Here is what Jamar had to say about his experience in the program, the development of the show, and the award recognition:

"I am going into my last year in the graduate program for Clinical Mental Health Counseling. I have had experience working in different roles at the university, such as part time support staff in the Bachelor of Individualized Studies program serving adult learners; furthermore as a Screening, Brief-Intervention, Referral to Treatment Coach assisting nurses at the Virginia Department of Health with motivational interviewing skills for patients dealing with substance use; also as an Employer Relations Assistant in University Career Services, ensuring students and employers were able to have positive experiences through the career site Handshake. One of my first roles here at Mason, as a Graduate Assistant under University Life Safety & Emergency Management, inspired my desire to start my radio show #TalkAboutitTuesdays. As I supervised student staff who completed walk-throughs in Residence Life, I began to become more aware of the barriers present for students, including social, economic, and educational factors, as well as how these barriers affect mental health. Being a student and having experiences myself, I knew this radio show/outlet was something students needed. Blending popular music with a message including tips and resources available to students, I believe that I have done a small task that will go a long way to help. I am very thankful to Henry Fisher and Rodger Smith for seeing the vision and allowing me to bring it to this platform. I am also thankful to my professors and staff in the Counseling Program, who have shaped and molded me as I go into my future career as a mental health professional. In the fall, I will begin my practicum/internship placement for my program that will allow me to gain clinical skills. As a long term-goal, I would love to combine both my goal of working as a mental health professional alongside media to make a difference."
Congratulations again to you Jamar!