Please join us in congratulating Mr. Martin Abruzzo on his recent recognition as one of the top 10 Academic Advisors at GMU!
Marty Abruzzo is an alumnus of the Counseling Program and now serves Mason as the Student Services Coordinator with the School of Integrative Studies in the College of Humanities and Social Sciences. He was selected by the Academic Advisors of the Year Award Committee who are committed to select the most dedicated individuals in Mason's advising network and showcase their devotion to the students they serve and the programs they support.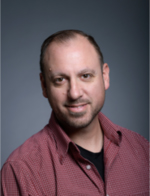 One of his nominators had this to say about his work. "Marty is an outstanding academic advisor. He provides students with phenomenal feedback and recommendations on how to excel not only in their academic careers but also in their professional careers. He is very personable and welcomes all students with a smile. He is by far the best academic advisor I have consulted with at Mason. I recommend him to every student I encounter looking for assistance from an academic advisor."
He had this to say about his nomination. "It has been a journey since graduating from the Counseling program and I have 100% recognition that I was prepared to deal with it all because of my degree. As the Student Services Coordinator, my main job is to advise, counsel, guide, and prepare students for their Bachelor's degree as well as career readiness. My internship in the Counseling & Development program was at Career Services and I used the skills I learned from the program every day. An example would be recognizing when school or career were not the main issues going on with a student and the skills we practiced, (and practiced, and practiced) in the program had me ready. I have met with over 1,500 students in the past 2 years and I learn each day from each one. Another dream that came true for me was becoming an instructor at the college level (UNIV 100 and INTS 395). INTS 395 is a College to Career course that prepares students for job interviews and the job searching process. I utilize my counseling skills to talk about the fears and pain and work through strategies for students to be the best version of themselves. There are great days and difficult days but I would not be the instrument I am without having come through the Counseling & Development Program and I am grateful for it every day."
Congratulations Marty! We know that the students in the School of Integrative Studies are in good hands and we are thankful for your dedication to them, and to Mason.