Arlington County Public Schools Superintendent to Join Mason Faculty
Robert G. Smith, superintendent of Arlington (Va.) Public Schools (APS), will join the Mason faculty this fall as an associate professor of education in the College of Education and Human Development (CEHD).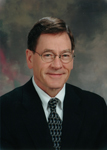 Robert G. Smith
Arlington Public Schools photo
Smith, who will teach in the Education Leadership Program, has served as superintendent for the past 12 years. Last fall he announced his plans to retire from APS at the end of the 2008-09 school year.
Smith's retirement from APS comes after 44 years as an educator in the Frederick County (Md.), Spring Independent (Houston, Tex.) and Arlington public school districts.
During his tenure as Arlington's superintendent, Smith championed a number of major initiatives designed to raise student achievement across the district and to eliminate achievement gaps between groups of students. Achievement was assessed by a variety of measures, including completion of rigorous courses and performance on Virginia state exams.
"We are delighted to have Dr. Smith join our faculty and know he will be an invaluable asset to the college, the program and our students," says Gary Galluzzo, CEHD dean.
"Under his leadership Arlington Public Schools have consistently been recognized as one of the best, and our students will benefit from his expertise. The wealth of knowledge he brings and his experience with diverse student populations is a perfect fit for our Education Leadership Program and the college."
Mason's Education Leadership Program emphasizes an understanding of the complexities of change in schools, communities and organizations.
Whether pursuing a master's or doctoral degree, students are expected to develop and demonstrate the knowledge, skills and dispositions necessary to create and maintain learning environments that value diversity, continual knowledge acquisition, instructional leadership, innovative and ethical decision making, reflective practice and successful achievement of all school-aged youth.
"I am honored to be joining the faculty of a prestigious university such as Mason that has demonstrated its commitment to Virginia and to the nation through its many contributions to scholarship and public service," says Smith.
"I look forward to serving with a distinguished faculty in the Education Leadership Program that has provided exemplary service in improving leadership and achievement in public schools by linking theory and research to educational practice."
Along with his administrative duties, Smith has engaged in a variety of research activities while serving in Arlington and, before that, in Houston.
In recent years, his professional publications have focused on classroom observation and the development of instruments to investigate "Teaching for Meaning" practices in classes of students with diverse backgrounds.
He has been an active member of the American Educational Research Association (AERA) and is a member of AERA's Special Interest Groups focused on Research on the Superintendency; Teacher as Researcher; and Research, Evaluation and Assessment in Schools.
Smith holds PhD and MA degrees from the University of Maryland and a BA from Davis and Elkins College. Smith's work was recognized by his colleagues in the Virginia Association of School Superintendents who named him the Region IV Superintendent of the Year for 2005. He has served as the group's chair since 2007.