PhD Early Childhood Education / Early Childhood Special Education Specialization
The PhD in Education with a specialization in early childhood and early childhood special education (EC/ECSE) is individualized, interdisciplinary, and experiential.  Students plan their own programs to meet self-defined goals with the guidance and support of faculty advisors. EC/ECSE courses can be applied to primary or secondary specialization areas.
If you have questions about this specialization, please contact the specialization representative, Christan Coogle.
About the Specialization
Many of the most well-respected educators and policymakers in the world have advanced degrees in early childhood education.
What Will You Learn?
The specialization features coursework and applied internships that will enable you to meet the following standards:
Candidates will demonstrate knowledge of significant theory, developments, and practices in culturally, racially, linguistically, ability and socio-economic diverse early childhood education and early childhood special education settings.
Candidates will demonstrate the ability to utilize and interpret basic principles and methodologies of interdisciplinary research design and data analysis within the field of early childhood education and early childhood special education settings.
Candidates will demonstrate skills as reflective early childhood and early childhood special education practitioners, including demonstration of analytic and integrative thinking.
Candidates will demonstrate ability to conduct, report, and defend original research within the field of early childhood education and early childhood special education.
How Will You Learn?
Your advisor will guide your doctoral experience by supplementing coursework with professional experiences, including:
Attending and/or presenting at professional conferences
Independent study in areas of interest
Teaching and/or co-teaching early childhood education and early childhood special education courses
Writing, editing, and reviewing for scholarly journals
Graduate research assistant opportunities
Internship opportunities
Where Can This Specialization Take You?
Graduates of this specialization hold professional positions such as:
Academic faculty at post-secondary institutions
Consultants with private and public companies, education and research think tanks, federal and state government organizations and agencies, and non-government organizations
School, district, and statewide leadership opportunities in birth-12 school districts and agencies
What Are Our Students Saying?
As my doctoral journey draws to a close, I can't help but reflect on how much I've grown as an educator, scholar, and researcher. My path has been a long and windy one, and very different from what I anticipated when I began my journey. I am so very grateful for the amazing mentors that I have had, the friends I have made, experiences in the classroom and at conferences, and finding my place as a teacher educator. The Early Childhood Education program has prepared me to honor the voices of children and families from diverse backgrounds and to support the growth of the preservice and inservice teachers with whom I will continue to work. The Ph.D. program at Mason has prepared me well to step into the role of Clinical Assistant Professor at the University of Alabama, and I am excited for the future!

~ Erin Geiger, current student
Since I started my PhD program at George Mason, I have met so many people who are like-minded and passionate about their research as well as service to their community. The PhD journey has been full of awakening and growth pain that helped me to break out of my shell to be bigger and stronger. My experience in class and doing GRA work is preparing me to be open-minded and critical to serve the families from marginalized communities and think about equity in the field of education. The feedback that my professors are providing in my life is shaping my worldview and building my character to be humble and professional.

~ Jihyae Choe, current student
The faculty and students I have met and had the pleasure of collaborating with during my time in the PhD in Education program have helped guide me in my goal to bridge research to practice. The mentorship I've received has provided me with the confidence to engage in independent research, teaching, and service opportunities within the early childhood and early childhood special education fields.

~ Clarissa Wade, current student
Specialization Courses
Each student prepares an individual program of study in consultation with their Program Advisory Committee. The following courses can be taken as part of a student's primary or secondary specialization coursework:
See additional coursework required as part of the PhD in Education degree.
Our Graduates
Sehyun Yun, PhD 2022
Dissertation Title: Cultivating assessment knowledge, perspectives, and competencies of early childhood education preservice teachers
Dissertation Chair: Dr. Julie Kidd
Payal Shah, PhD 2021
Dissertation Title: An Exploratory Study: How Early Childhood Preservice Teachers Construct their Understanding of Technology Integration in a Technology-infused Social Studies
Dissertation Chair: Dr. Julie Kidd
El'Tanya Brown, PhD 2020
Dissertation Title: Not the Woman I Once Was: How Turning Points Shape the Trajectories of Military Mothers Parenting Young Children with Disabilities
Dissertation Chair: Dr. Colleen Vesely
William Harry Rodick III, PhD 2020
Dissertation Title: Parallel Societies: A Community School in the Context of Gentrification
Dissertation Chair: Dr. Colleen Vesely
Rabaah Alqassem, PhD 2019
Dissertation Title: Early Writing in Saudi Arabian Kindergarten Classrooms: The Role of Teacher Preparation in Developing Young Writers
Dissertation Chair: Dr. Julie Kidd
Rhode Fernandez, PhD 2019
Dissertation Title: Observational Study of Head Start Teachers' Verbalizations and Their Relationship to the Mediated Learning Experience Rating Scare Scores
Dissertation Chair: Dr. Susan Burns & Dr. Julie Kidd
Student Accomplishments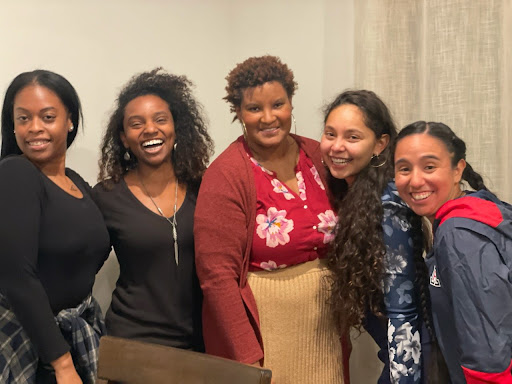 This photo includes a few leaders on the Student & Early Career Council (SECC) representing the Society for Research in Child Development. (pictured from left to right: Dr. Ashley Stewart, GA State University; Dr. Michelle Brown, University of South Carolina; Amber B. Sansbury, PhD Candidate at GMU; Dr. Josefina Bañales, University of Illinois-Chicago; and Dr. Lorena Acevez, Child Trends)