Secondary Education Degree Options
Skip local navigation
Praxis Workshops
Let us help you prepare for Praxis testing. We offer workshops throughout the year.
Whether you are just starting your undergraduate education or are heading back for an advanced degree, you have come to the right place for the latest information on programs that will set you up to succeed.
MEd Curriculum and Instruction Master's in Secondary Education Concentration Options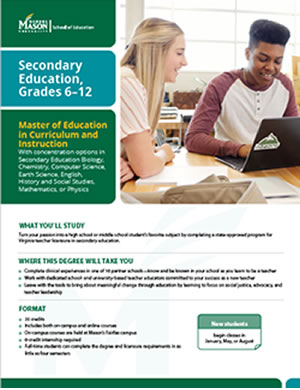 The Secondary Education Program is designed to meet the needs of those who wish to be licensed or who need to satisfy the requirements of a provisional license for secondary teaching. Specific endorsement areas are: biology, chemistry, earth science, English, history/social science, mathematics, and physics. Add-on endorsements are available in English as a second language, and algebra I. Additional information available in the Secondary Education Handbook.
Bachelor's/Accelerated Master's Programs
Graduate Certificates
Undergraduate Certificates